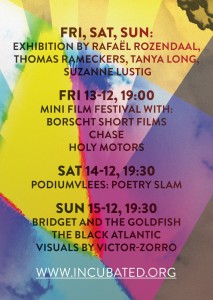 The next Flexpo weekend is scheduled from 13th till the 15th of December. Incubated Flexpo and Pop Up Cinema present a weekend full of art, music, film and poetry. Featuring work of artists who are inspired by both modern and classic art. Dutch-Brazillian artist Rafaël Rozendaal will bring the building to life with colourful animations on the windows. Tanya Long (US) will present analog colourprints, Suzanne Lustig (NL) brings us some silk-screened and 3D work and Thomas Rameckers (NL) will present his paintings. And if that isn't enough for you, there will also be a film night on Friday 13th, poetry-slam on Saturday 14th and a music night on Sunday 15th with singer-songwriters.
Friday 13th
Dark Days, Bright Nights will commence with a mini-film festival. Take a seat for Pop Up Cinema Tilburg and enjoy some freshly popped popcorn! Artist collective 'Borscht', from Miami will present their short films 'C#CKFIGHT', a rework of Dante's Inferno and 'Life and Freaky Times of Uncle Luke', inspired by classic french short film 'La Jetée'.
Afterwards, the film 'Chase' will be shown, a Dutch short film from the master of abstract animation Adriaan Lokman in which he brings back the concept of the 'Action-movie' to triangles. Main film of the evening is 'Holy Moters' from Léos Carax, a colourful and poetic film with references to the history of film. This movie is praised as a surrealistic masterpiece and made it to a lot of end-of-the-year lists in 2012. Facebook event page.
Saturday 14th
Poetry-slams are real battles in which poets compete live on stage. Ultimately it is all about making the audience enthusiastic about the performance. This concept started in the US and has grown to a worldwide phenomena including national and international championships. The Netherlands has its own slam scene with poets of varying styles and age. From rappers to sonnet writers, from cabaret to experimental. Six artists will present their series of slams under the name 'Podiumvlees'. After a couple of rounds the audience and a jury will pick their favourite poets for the final battle to compete for a spot on the annual final during Incubate 2014. Contestants for this year are Josse de Kok, Gino van Weenen, Chatfant, Wanda G. Martin, Shanna and Juvu de Ruiter and Erika de Stercke. Facebook event page.
Sunday 15th
This day will be all about music with video projections from Victor-Zorro. Brigdet and the Goldfish wil bring you a perfect balance of folk, country and pop. The Black Atlantic will perform his solo acoustic guitar songs and showcase his new EP 'Enshrine'.
Location: Spoorlaan 19, Tilburg
Time schedule:

Friday
19:00 doors open
19:30 start short films
20:30 Holy Motors
Saturday
19:30 doors open
20:00 start program
Sunday
19:30 doors open
20:00 Bridget and the Goldfish
21:00 The Black Atlantic